I'm coming back. I swear. Hold me to this, will ya?


I'm boiling water for Ramen noodles. I have a couple pork chops that I cooked last night that I am going to cut up and throw in there... Gourmet!

My meeting with the book guys is Monday morning. I am alternating between being excited about the project and being overwhelmed by the project. I know I can do it though, and I really hope I get it - I couldn't ask for a more perfect job right now.

Money is good, being able to work from home is better, having something else to think about besides Vintage Goodness is the best.
I've been missing my LJ.
John Edwards is quitting the race
... I was really hoping he would at least hold on until Super Tuesday. I think his poor showing in SC made him realize that being the white male in this race was too big of an obstacle to overcome. I'm so bummed, I wanted to vote for him! I don't want to vote for Clinton or Obama, dammit!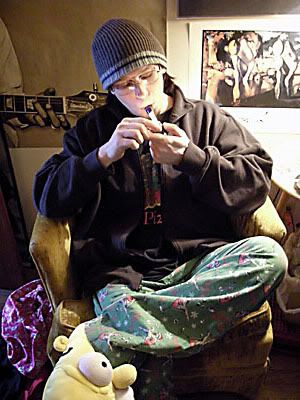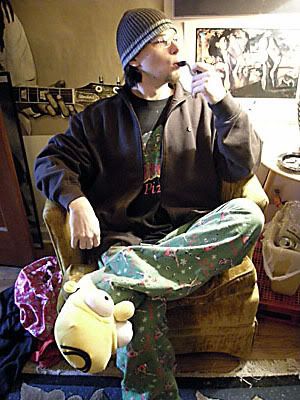 Smoke 'em if you got 'em! ;)
Will needed a photo of himself to post on his gaming group's forum. This is how the photo shoot went down:
I love them.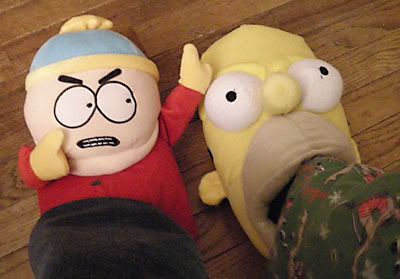 A while back I thrifted a pair of Homer Simpson slippers for Will, which he wore until there were big holes in the bottom. Last week he got online to find himself another pair, and he got me some Eric Cartman slippers at the same time! They are ridiculously huge and squishy.
If you haven't watched Who's Line Is It Anyway, try to find it and check it out. I prefer the original British version over the American Drew Carey hosted version, but both are good, and you are guaranteed to have moments of pee your pants, roll on the floor laughter. Like with this little gem. :D (I used to skip class in college to watch this show, and my roommate and I would argue over who got to claim Ryan Stiles (the really tall dude) as their husband.)


(I just re-read what I wrote and suspect that sentence only makes sense to me, but whatever.)

It's been a busy week here, little Shadow had his surgery on Monday. He had a cyst on his head that he had to have removed, he is doing really well but looks like Frankenstein with the big stitches he has on top of his head. I would take a picture, but he hates the camera so much he literally runs to the opposite side of the house when we turn it on. I think it makes a noise he can't stand. Anyway, he has his stitches removed on the 14th, and I guess it will be a few months before his hair grows back in. They had to shave most of the top of his head so he looks pretty funky!

By the way, I'm out a grand total of $445 for this little operation, and I have no idea how much it is going to cost to take out the stitches, probably another $75.

*sigh*

Of course the next thing on the list is Will's dental nightmare, which begins next Thursday. The estimated total for the 4 or 5 appointments he needs is around $900. We haven't quite figured out how we are going to pay for it yet, other than we are going to try to get rid of his car. The Xbox and games are also on the chopping block, they will be up on Craig's List this week probably.

It's worth it though, no man of mine is going to have fucked up hillbilly teef - no way, no how!

The good business news is that I officially crossed the threshold into profit this week! Woot! Not too bad, 8 months to clear a profit on a new business... Some businesses take a year or two. I am scrambling right now to get as much listed as possible before the listing fee sale ends on Wednesday. Fingers crossed they decide to make it permanent, it would help out a ton!

We have a couple of other projects in the works, mostly stuff for my still empty Etsy store. We are making some reconstructed vintage jewelry which is turning out really cool. Will has a talent for it, he used to make jewelry back in his hippie days and has much better manual dexterity for working with the little jump rings and things than I have. I'll be sure to post a link when we get it up.

I also am going to be starting on the bookstore soon, I've been putting it off because most of the books I have are neatly tucked away, unlike all the other crap that is spilling out everywhere. Once I get that whittled down the books are next...

Well the dog wants out and I need to get to work, I'll try to post again soon!
Mucho work to do today, but I am still drinking my coffee and chain smoking cigarettes, and I've caught up on my emails and blogs so here I am.